Update to Where Bloggers Create
I have an update to my overhaul of my art space and it is also an opportunity to link to this year's
Where Bloggers Create
, hosted by Karen Valentine at
My Desert Cottage
.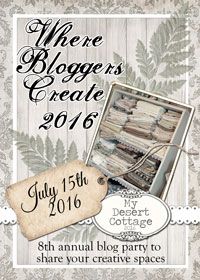 I found that I needed somewhere to put a palette/paint mixing place, and as the goal was not to use the icon writing space for anything but icon writing, I brought a piece of furniture that had been banished from the space for a few years, put some plastic wrap on it to protect the top and I'm currently using palette paper for the mixing. When I run out of that, I'll look into get some glass or perspex or something for the top.
Here is that part of the space before:
and after (apologies for the lighting, it was twilight when I took the photo):
It's a pine bedside table that I painted and used for storage for a while.
So if you haven't seen my overhaul that I did in June, you can see that
at this link
.
And for previous instantiations of my craft room now art studio, you can go to
this page
to see all those links.
I'm off to enjoy looking at all the creative rooms in this year's link party!